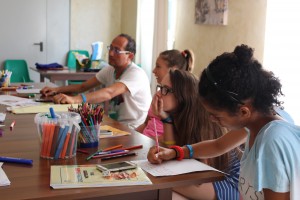 At our camp, students are supervised 24h7; as you can see, we guarantee to parents that their children have all the day scheduled, from when they wake up to bedtime.
Regarding Young Adults Program, we recognize that students of this age like to be more independent during their stay at the Village. The Program Young Adults gives you the independence to do what you prefer outside English or Italian lessons. Whether this involves relaxing on the beach or taking part in one of the many sports, activities or excursions on offer, it's your choice! If students wish to leave the Village unsupervised, parents must send written authorisation upon enrolment.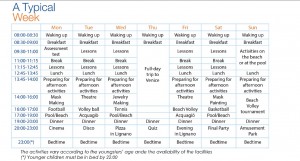 Click to zoom
At 8 o' clock students wake up and go down to the living room to have Breakfast. They reach their classes, where they take English or Italian lessons with the teacher. 
After Lunch, students usually join board-games or leisure activities in the hottest hours of the day and then start practising the sport they have chosen between basketball, 5-a-side football, volleyball, beachvolley and others.
Acquasplah is one of the favourite place inside the Village! At 7 PM students have free and supervised access to the Aquatic Park.
Dinner is on the table! Before going to bed, Juniors join the evening activities, while Young Adults can hang out outside the Village with their peers (only the ones with parents' authorization).
… Do not forget about excursions! Twice a week, in a cultural or educational place near Lignano (Venice, Trieste, Aquileia, Marano Lagoon, Park Adventure of Lignano Sabbiadoro, Zoo Park …)
For more information regarding the Typical Week, contact us at incoming@mbscambi.com