Sport activities, Excursions and outdoor activities
Choose your favourite sport!
These facilities include: a synthetic football field, 5-a-side-football field, 4 multipurpose courts for basketball and volleyball, a tennis court, 4 swimming pools, one with waterslides, an olimpyc-size swimming pool, a 1,2 Km stretch of supervised private beach, roller skating tracks, a miniature golf course.
MB Sports Academy
MB Scambi Culturali introduces MB Sports Academy, an International Summer Camp where your children can
study either Italian or English in the morning and practice their favorite sport during the rest of the day!
Volleyball, beach-volley, tennis, basketball, five-a-side-football and swimming: MB has developed this program, to give to your children the possibility to practice one of these 5 sports during the day with a professional coach and to take English or Italian lessons in the morning, with native speaker teachers.
Download the Brochure for more details and contact us to book a place for your children!
Tennis Pro
The MB Tennis Pro camp is for players wishing to improve their tennis abillities. The trainer will help each player to concentrate on their weak points and improve their technique. The training sessions include instruction on the forehand, backhand, service, volley, and crosscourt shots, as well as spinning, positions and playing strategy. 
Evening activities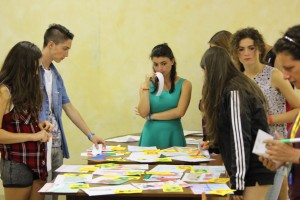 There are a lot of customized activities for Junior and Teenagers, such as modern dance and salsa, karaoke, cinema, disco (at the center), visit to Amusement Park in Lignano, evening in pizza houses in Lignano and much more.
While Junior and Teenagers join evening activites, Young Adults can go outside the Village with the written permission of their parents or they can join the Junior students.
Two excursions per week
Every Thursday there is a full-day excursion to a place of cultural, environmental or recreational interest to make new discoveries, and experience new adventures. This helps to create novel and stimulating
learning opportunities to share with new friends. Here are a few examples of the places we visit:
Venice and the Doge's palace, The Grotte del Gigante Caves, the historical towns of Grado and Aquileia, the glassblowing museum in Murano and Burano, a boat trip to Marano lagoon nature reserve.