MB Summer Camp: an All-Inclusive international vacation!
Dates
The MB International Summer Camp for Children and Teenagers takes place on June and July  see dates on main Dates Summer Camp:
The most popular length of stay is 2 weeks, although you can stay for a minimum of 1 week and a maximum of 4 weeks.
The dates listed above are those that we recommend for a 2 week stay. Arrivals are possible on any Sunday within these dates.
Students nationalities
MB Summer Camp is an international camp which hosts students from different nationalities, such as: Italy, Northern Europe, Russia, America and Asia.
Security and Staff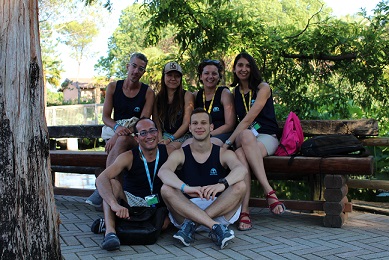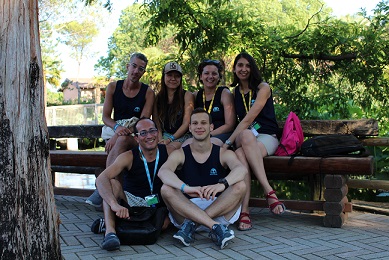 We make every effort to ensure that we satisfy the concerns of parents regarding the personal safety and supervision of their children:
The 60 hectares of private premises are fully enclosed and patrolled by professional security 24 hours a day
MB staff provide 24 hour supervision (staff/student ratio of 1:10)
There is 24 hour healthcare on site
Lifeguards are on duty at all pools and on the beach
Medical insurance is included in the price for Italian Residents. For the others available at an extra cost.
Prices and conditions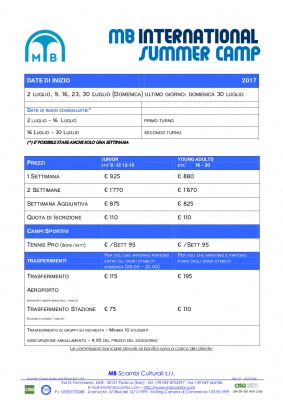 The prices include:
Italian or English language course (20 lessons per week)
All course material
A written oral placement test
An end of course certificate
1 sports activity per day, such as football, basketball, volleyball
One full day excursion  and an hal-day one per week
Residential accommodation in rooms for 3 to 5
Full board: breakfast, lunch, dinner
24 hour medical assistance (Doctors & Nurses reside in the village)
Healthcare and medical insurance
Full time supervision and assistance from MB staff (reside in the village)
Tennis Pro (8 hours per week) or MB Sport Academy (8 hours per week for Basketball, Volleyball, Beach-volley, Tennis, Five-a-side-football 10 hours per week of Swimming)
DOWNLOAD THE PRICES FOR MB SUMMER CAMP
Enrollment fee
Transfers
While enrolling, it is possible to book a transfer, available for Latisana railway station or Venice Marco Polo airport. You can see the prices here. 
For groups, you can contact us to ask for a quote.